Estonian Review
EESTI RINGVAADE VOLUME 16 NO 12 MARCH 22 – 28, 2006
TOP NEWS
Finnish President: Lennart Meri was Unique Person
Mar 26 - In a speech held in Estonian language during a ceremony of final farewell to former Estonian President Lennart Meri in Kadriorg, Tallinn, Finnish President Tarja Halonen underscored Meri's achievements and the uniqueness of his personality.
With Meri's passing, his family has lost a loved one, the people of Estonia have lost a great statesman, and the people of Finland have lost a loyal friend, the Finnish president said. "Though we miss him and mourn him, we are comforted by fond memories of a person who was truly unique. He was a man who achieved much during his lifetime. Lennart Meri was a deep-thinking humanist who had a very special affinity with the Finno-Ugric
peoples. Tirelessly, he worked to improve the prosperity and well-being of the people of Estonia," Halonen said.
"For us Finns, he was a fascinating cousin, a cosmopolitan and an artist. For us, he was the new Estonia," she said.The Finnish president also said that the events which led to the new independence of Estonia linked the fate of the neighbouring country even closer to the history of Finland.
President Lennart Meri's funeral:
More photos: www.riik.ee/lennartmeri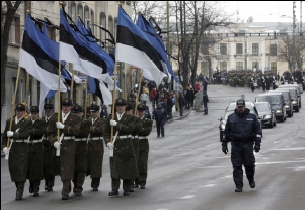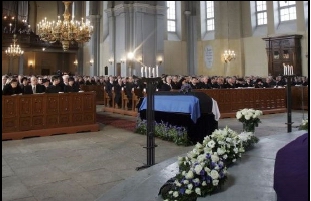 Photos: Mindaugas Kulbis (APA)
FOREIGN NEWS
PM Backed Common Energy Policy at European Council
Mar 24 - Estonian Prime Minister Andrus Ansip expressed support for developing a common energy policy that would ensure reliability of energy supplies throughout the European Union at the European Council meeting in Brussels.
Ansip said after the EU summit in Brussels he was particularly pleased with the agreements reached in discussions on the European energy policy. "Like in other fields, in energy policy too the creation of an open market in the European Union is essential," the premier said. "As the Baltic countries remain till today an isolated island in terms of electric energy, it is necessary to link the Baltic market with the rest of Europe to raise both competitiveness and the security of energy supply." Ansip observed that energy policy and the common foreign and security policy need to be better integrated. "We'll be stronger when speaking with one voice," he said.
The European Council found that in view of the strategic role of the energy sector the European energy policy should be based on a common position and aimed at stepping up the development of regional energy cooperation within the bloc by easing the integration of regional markets with the internal market. Besides energy, economic growth and employment questions were in focus at the spring summit.
In Ansip's opinion, mention of the services directive in the final conclusions of the Council was very positive. "This sends the public a strong signal that the EU has firmly set its sights on bringing to a conclusion the creation of a common internal market. Estonia has always backed speedy adoption of the services directive," he said. Recalling the decisions of the March 2005 summit, the European Council underscored in the final conclusions that the internal market of services needs to be made fully operational.
FM : Belarusian Detainees Must be Released Immediately

Mar 24 - There are no grounds for keeping Belarusian protesters in custody and they have to be released immediately, the Estonian foreign minister said at the European Council meeting in Brussels. Paet added that the European Union insists on immediate release of arrested persons. "Peaceful demonstrators exercised their legal right of free assembly to protest against the way the presidential election was carried out," the minister said, adding that there were no grounds for arresting them and they have be released at once.
EU heads of state and government and foreign ministers passed a statement censuring the arrest of peaceful protesters in Minsk by the Belarusian authorities.
EU leaders condemned Belarusian authorities' unwillingness to observe the stipulations of the Organization for Security and Co-operation in Europe concerning democratic elections, stating that the March 19 presidential election entailed major faults. Belarus is "a sad exception" to democracy in Europe, the EU leaders said.
Paet added that the EU decided to take further restrictive measures against those responsible for election fraud and violation of international standards. "What matters the most is that the statement
mentions by name (President Alexander) Lukašenka as it is he who is behind the repressions against the opposition and the violence," Paet
said.
The Council at the same time hailed the message of hope sent by Belarus' democratic opposition and civil society. Their courageous efforts to seek democratic goals under particularly complexcircumstances deserve our full respect and support, EU leaders said.
FM: EU Enlargement Must Continue
Mar 24 - Enlargement is one of the most successful projects of the European Union and Estonia firmly backs continued expansion of the bloc, said Foreign Minister Urmas Paet after the European Council.
"Expansion has been one of the most successful projects of the European Union and it definitely needs to be continued," said Paet. "It makes no sense to look for artificial boundaries to the EU - what is of primary importance is shared values and securing of positive developments," he added. Foreign ministers from EU member countries discussed also matters relating to the Constitutional Treaty and illegalimmigration.
"Thanks to Austria's efforts to breathe fresh life into discussions over the future of the EU Constitution, the subject is again under consideration in European capitals," Paet observed. "That's a good sign," he said. "It shows that the reached agreements reflected in the Constitutional Treaty are important from the point of view of Europe's future and nobody can or wants to overlook the Treaty." Paet underlined that the text of the Treaty is a hardwon compromise achieved through all member countries' concessions, which mirrors the current political reality of the bloc. "Because of this, it's highly questionable whether a better result could be achieved in new talks," he said. The minister affirmed that Estonia will continue handling the Treaty as planned and said he hopes the parliament will ratify the EU Constitution already this spring. The foreign ministers talked about illegal immigration which has become topical in connection with the explosive growth in the number of refugees from sub-Saharan Africa to Canary Islands. Although Estonia lies on theEU's external border, thepressure of illegal immigration is currently and probably will be also in future the strongest on Europe's southern border, Paet observed. "We must understand and support our partners in the Mediterranean region, becausesolutions need to be sought andfound in member countries' cooperation," he said.
FM Raises Topic of Visa- Free Travel at Meeting With US Reps
Mar 27 - Estonia's Foreign Minister Urmas Paet once again raised the topic of scrapping visas in travel between Estonia and the United States during a meeting with the US delegation that had arrived here to attend the funeral of President Lennart Meri.
Meeting with the head of the US delegation, Deputy Secretary of the Department of Commerce David A. Sampson and Undersecretary of State for Europe and Eurasia Daniel Fried, Paet said that lifting the visa requirement for Estonian nationals played an important role in developing trade and economic relations between Estonia and the United States. Paet expressed hope that visafreedom in travel can be achieved soon.
Also discussed at the meeting were relations between the European Union and the United States and the situation in Ukraine, Georgia, Belarus, Afghanistan and Iraq. Both the Estonian minister and members of the US delegation stated that the EU and the United States were not competing with each other but rather saw countries with large developing economies in Southeast Asia as their competitors.
Speaking about promotion of democracy in the close neighbourhood of the EU, the US representatives said that Estonia's role as a successful
country of reform was important in encouraging Ukraine and Georgia and served as an example for Belarus. As regards Ukraine, the parties expressed hope that a government continuing reforms will take power after Sunday's general elections in that country and that Ukraine will continue to proceed in its chosen direction.
Estonia Interested in EU Northern Dimension Joint Projects of Nordic Countries with Russia
Mar 27 - Estonia is interested in potential joint projects of Nordic countries with Russia within the framework of the EU's Northern Dimension, Estonia's Foreign Minister Urmas Paet said after meeting his Norwegian counterpart Jonas Gahr Store. Paet, who was in Norway on a brief visit, said Estonia's interests in the Northern Dimension mainly lie in improving the environmental condition of the Baltic Sea and carrying out infrastructure projects. "Co-operation within the framework of the Northern Dimension should encompass only those areas of the action plan of the four common spaces between the EU and Russia in which acting on a regional level offers added value," Paet said.
Also Store said that Norway is interested in more active participation in projects of the Northern Dimension. Paet invited his Norwegian counterpart to attend a conference on the Northern Dimension to be organized jointly by Estonia and Finland in Tallinn in June.
The meeting also dealt with Estonian-Norwegian relations,matters related to the EU, including energy, as well as the situation in Ukraine, Belarus, Afghanistan and Iraq.
The ministers found relations between Estonia and Norway to be very good and businesslike, involving close co-operation and exchange of information. Store said that relations between Estonia and Norway have reached a point where the striving force behind them is no longer the governments but the people.
Paet and Store were content that the Estonian parliament onMarch 22 ratified memorandums dealing with support to be extended within the framework of the financial mechanism between the European Economic Area (EEA) and Norway. "Now it is possible to smoothly go on with the process and open a project tender," Paet said.
Estonia stands to get 480 million Estonian kroons (EUR 31 mln) until the year 2009, whichit intends to spend primarily for the preservation of culturalheritage, protection of theenvironment, and health care. Dwelling on the topic of energy,the ministers agreed that issues of energy are making up an ever more important part of the security and foreign policy of both individual countries as wellas of the EU.
In the afternoon Paet met with members of the foreign affairs committee of the Norwegian parliament and the committee's vice chairperson Marit Nybakk, with whom mostly matters related to the EU were discussed.
FM Believes in Successful Co-operation with New Swedish Counterpart
Mar 27 - Estonian Foreign Minister Urmas Paet said he is convinced that cooperation between him and the new foreign minister of Sweden, Jan Eliasson, will be successful.
"Estonia and Sweden have been having very good relations, and this is true also of the foreign ministers," Paet. "I'm convinced that our cooperation with Eliasson will be as successful as with his predecessor," Paet said. The Estonian minister said that while he hasn't met Eliasson personally, the new Swedish foreign minister is a well-known diplomat with a long record of work in the United Nations. Paet said cooperation between the two countries is set to continue both in the EU as well as in other international organizations and that relations between the countries will continue to
develop too.
Estonian MEP Underlined Inportance of Common EU Energy Policy
Mar 22 - Toomas Hendrik Ilves, the Estonian Social-Democratic member of the European Parliament underlined importance of the common EU energy policy. "I would like to remind you why the issue is being discussed here today -- a gas row broke out between Ukraine and Russia, which showed how vulnerable the European energy system is. Also, how energy can be used as a political vehicle," Ilves said.
He said that the Ukrainian- Russian gas row showed that if a country has suitable leaders, such as Lukašenka, it will get energy from Russia, but if the course a country has chosen is unsuitable to Russia, such as in Ukraine, it will not. "Until there is no common energy policy, until every member country attempts to achieve the best deal with one major stateowned firm we will remain dependents and victims of side deals," Ilves said.
Ilves underlined that Europe needs a common energy policy, like it has a common trade policy in which the EU is extremely effective in negotiations. "Just imagine in what a state Germany or France, let alone Estonia would be for example in WTO if it went to talks single-handed with the United States or China. But the present situation where every country only takes care of its own energy supply and signs bilateral agreements is not different from it," he said.
Ilves said the European Union with its fragmented energy policy depended on the political judgments of one country's state-controlled monopoly, but in case of a common energy policy Europe itself would decide.
Foreign Ministry Earmarks Funds for UN Democracy Fund
Mar 24 - The Estonian Foreign Ministry has decided to donate 10,000 US dollars to the UN Democracy Fund (UNDEF) and back a course to train support personnel for the organization's humanitarian crisis evaluation and co-ordination team.
By Foreign Minister Urmas Paet's orders, the funds will be allocated from the ministry's budgetary resources for development and humanitarian aid.
Estonia regards supporting democratic reforms and processes in developing countries as a key area ofaction, Paet said. "By making a donation to the UNDEF, we'll be helping to strengthen democracy also through a specially created UN fund," he said. "Estonia's contribution tothe UNDEF shows again that besides political will the country is taking actual steps to support democratic developments in the more faraway regions which our bilateral assistance and experience does not reach."
The UN Democracy Fund was set up in June 2005 with the aim to support and promote emerging democracies. The other project is aimed at training support personnel for the UN humanitarian crisis evaluation and coordinationteam so it can be used more efficiently in major emergencies. The goal is to raise the capability of Estonian and Nordic countries' rescue specialists to offer operational support in areas such as logistics and transport, communications and computer technology in UN-led humanitarian relief operations in the event of natural catastrophes and other civilian emergencies.
Estonian experts have provided such support to UNorganizations in the posttsunami reconstruction work inIndonesia and are currently working to eliminate theconsequences of an earthquakein Pakistan. The ministry's 2006 budget includes 15 millionkroons (EUR 0.96 mln) fordevelopment and humanitarian aid.
Estonian, Hungarian Presidents Spoke About Issues of Small Finno- Ugric Peoples
Mar 27 - Estonian PresidentArnold Rüütel and his Hungarian counterpart Laszlo Solyom discussed the issues faced by small Finno-Ugric peoples during their meeting in Tallinn.
Rüütel awarded the Chain of the Cross of Terra Mariana to the Hungarian president, who was in Estonia on a two-day state visit.
During the meeting of the presidents and their delegations matters such as co-operation in the European Union and the EU's neighbourhood policy,
possibilities to promote cultural and economic co-operation between Estonia and Hungary and problems of small Finno-Ugric peoples were talked
about. Rüütel said it is very important to work closely with each other within the framework of the European neighbourhood policy as well as in helping fellow Finno-Ugric small peoples. The president emphasized that in doing it also Russia has to be helped democratize its society.
Solyom said Hungary is paying a lot of attention to the issues of small Finno-Ugric peoples and finds that assistance in the field of culture is not enough, because these peoples need also infrastructure and business of their own, as well as schools and universities.
Hungarian President Laszlo Solyom said that ratification of the European Union's constitutional treaty by Estonia would serve as an important signal of integrity of the European Union. Both sides agreed that it is necessary to continue discussion on the constitutional treaty. "Hungary was one of the first countries to ratify the constitutional treaty.
The treaty's present text is a whole that was born in collaboration between many countries, and it shouldn't be broken," the Hungarian president said.
Thailand Seeking Estonia's Support in Election of New UN Secretary General
Mar 28 - Thailand's Deputy Foreign Minister Virachai Virameteekul presented to the foreign minister of Estonia Urmas Paet the candidacy of Thai Deputy Prime Minister Surakiart Sathirathai for the post of United Nations secretary general, lobbying for Estonia's support in the election of the
new UN leader.
The Estonian minister, Urmas Paet, said Sathirathai was a strong candidate to succeed Kofi Annan, the present secretary general. "Asia hasn't held the office of UN secretary general for the past 35 years. At the same time, there hasn't been anyone from eastern Europe at the helm of the United Nations.
If we today support Thailand in the election of the UN secretary general, we expect Thailand to back choosing the UN secretary general from eastern Europe in the future," Paet said.
Paet said Eastern Europe had several strong candidates, such as Latvian President Vaira Vike-Freiberga or former Polish President Aleksander
Kwasniewski.
Paet said Estonia can count on Thailand's support for its UN Security Council bid if Estonia backs that country's aspirations in the UN. Estonia aims to get a seat on the UN Security Council for the period 2020-2021. Paet and Virameteekul also spoke about concluding agreements on cooperation in culture and science and on the avoidance of double taxation between Estonia and Thailand.
Virameteekul spoke highly of the Estonian system of egovernment and said Thailand is introducing a similar system now.
Virameteekul is the most highranking Thai official to have visited Estonia so far.
DEFENCE NEWS
DEFENCE NEWS Commander of Estonian Defence League Died
Mar 25 - The commander of theEstonian Kaitseliit (Defence League), Maj. Benno Leesik, died in the early hours of Saturday after a brief serious illness.
Kaitseliit will always remember Leesik as a patriotic and dedicated officer full of initiative, the paramilitary organization said in a statement. Leesik made through his purposeful and tireless service at the head of Estonia's largest defence organization an invaluable contribution to the development of national defence and strengthening of Estonian statehood.
Leesik was born in the western city of Haapsalu on Jan. 17, 1960. After military service in the Soviet army, he worked in 1982-98 for law enforcement in the Haapsalu region, later Laane County, rising to chief superintendent. Leesik joined Kaitseliit in 1992. He was a graduate from the Law Department of Tartu University and had completed an FBI course on special operations, a voluntary reserve officers' course and a special course for senior officers of Estonian national defence at the Finnish defence academy.
In 1998 Leesik became acting chief of staff and in 1999 he was appointed commander of Kaitseliit.
Leesik is survived by his mother, wife, a daughter and a son.
Estonian Defence Attache in Russia to Start Work
Mar 28 - Col. Urmas Pau was formally accredited at the Russian Defence Ministry as Estonia's new defence attache to Russia.
Although Pau started performing the duties of defence attache already last week, his status becomes formal with accreditation.
Pau's term in the office will run until summer 2008.Russia gave its agreement to Pau's appointment in January.
Pau, born in 1951, has been serving in the defence forces since 1993, first as aide to the chief of staff of the Guards Battalion and then as chief of
staff.
In 1997-98 he was head of group and in 1998-99, head of section at the General Staff of the defense forces.
Pau was commander of the Signals Battalion in 1999-2004 and thereafter headed the General Staff's joint operations command.
Since last autumn he worked at the Defence Ministry's international cooperation department.
DOMESTIC NEWS
DOMESTIC NEWS Estonian Parliament Elected Centrist Toomas Varek for Speaker
Mar 23 - As expected, the Estonian Parliament has electedCentrist Toomas Varek for Speaker.
He was elected on the votes of 54 members of parliament in the 101-seat legislature. The opposition's candidate Peeter
Tulviste, nominated by the Pro Patria Union, collected 41 votes. 95 lawmakers took part in the voting.
Varek, born in 1948 in Rakvere, is a 1972 graduate of the then Estonian Agricultural Academy.
His career includes posts of director of the Kullaaru State Farm, chairman of the Viru Collective Farm and managing director of the Viru Õlu brewery.
In 1996-1999 Varek was mayor of Rakvere. He was elected to parliament in 1999 and again in 2003. In 2003 he was briefly interior minister in Siim Kallas's government.
Varek is a member of the Center Party since 1997.
Estonia Marks Anniversary of 1949 Soviet Deportation
Mar 25 - Several events to commemorate victims of the March 1949 Soviet mass deportation took place in Estonia.
Meetings to mark the 57th anniversary of the deportation took place Rakvere, at a railway station in the southern Valgamaa region and in Pärnu.
A memorial meeting organized by the Memento association was held at the statue of Linda, mother of the hero of Estonia's national epic Kalevipoeg, in Tallinn.
On March 25, 1949 Soviet authorities carried out the second mass deportation of residents from the Baltic states, taking in all 94,779 people from
Estonia, Latvia and Lithuania to Siberia.
Estonian Reform Named Presidential Candidate
Mar 23 - Board of the Estonian Reform Party has nominated its presidential candidates:
Population Minister Paul-Eerik Rummo, Mayor of Tartu Laine Jänes and MEP Toomas-Hendrik Ilves, a Social-Democrat. "The Reform Party is convinced that Estonia needs a president who would embody the present day of free, newly-independent Estonia and is capable of vigorously representing Estonian interests in the world as head of state," said Reform Party chairman Andrus Ansip. "Jänes, Rummo and Ilves - each of
them carries a somewhat different message, but the Reform Party is convinced that each of them would make a dignified president for Estonia,"
Ansip said.
A few weeks ago five parties who wish to elect the president in parliament agreed that each of the parties would name by April 6 three presidential
candidates for common discussion.
The term of office of the incumbent president Arnold Rüütel will expire this autumn.
Estonia in Talks on Bird Flu Vaccine
Mar 28 - The Estonian Ministry of Social Affairs is in negotiations with three pharmaceutical companies over vaccine supplies for Estonia in case of an avian flu pandemic.
Chief specialist at the Ministry of Social Affairs, Heli Paluste, said the talks were being held over a preliminary contract. "It means that when a pandemic breaks out, the producer guarantees
the availability of the vaccine for us," she said.
ECONOMIC NEWS
Estonian Minister Signed Joint RailBaltica Protocol of Intent
Mar 27 - Estonian Economic Affairs Minister Edgar Savisaar together with the transport ministers of Finland, Poland and the Baltic countries signed a joint protocol of intent on cooperation concerning the RailBaltica project in Brussels.
According to the declaration the focus in cooperation pertaining to the rail project linking Poland with Finland would in the future focus more on financial issues and track options.
The ministry said that issues of the track and gauge options, as well as environmental and financial matters were under discussion at the meeting of the RailBaltica countries' transport ministers' meeting. "It is important for Estonia to resume international passenger train traffic, intensify freight carriage in the direction of southern Europe and integrate Estonia's railway infrastructure with that of the rest of Europe, said deputy general secretary of the ministry Nathan Tonnisson,. RailBaltica is listed as a priority Trans-European Network for Transport (TEN-T) project of the European Union and it should be built from Warsaw through Kaunas, Riga and Tallinn to Helsinki. According to present plans construction of the railway should start in 2010 on the stretch between Warsaw and Kaunas.
Estonia to Get EUR 128 mln from EU Structural Funds
Mar 28 - More than two billion Kroons (EUR 128 mln) in support from structural funds of the European Union will be distributed in Estonia this year
and it is possible to apply for 24 different kinds of support, the Finance Ministry reports.
During this year applications for support in 24 areas of enterprise, development of human resources, research and development, fisheries, rural life, agriculture, labour market, environment, infrastructure and regional socioeconomic development will be accepted.
Over the first EU structural funds financing cycle, or 2004- 06, the funds are providing cofinancing in the sum of 5.8 billion Kroons for various projects in Estonia.
It has been typical of previous years, too, that the volume of exports declines at the beginning of the new year in comparison with the end of the
previous one, the ministry said.
Positive developments were observed only in January 2005, which resulted in a relatively high basis of comparison.
Co-financing is provided to four priority areas: development of human resources; competitiveness of enterprise; agriculture, fisheries and rural life; and infrastructure and regional development.
Social Affairs Minister: Estimated 10,000-11,000 Estonians Have Gone to Work in EU
Mar 27 - Over the past almost two years that Estonia has been a member of the European Union, approximately 10,000 to 11,000 Estonians have gone to work in other countries of the EU, Social Affairs Minister Jaak Aab said.
Since Estonians mostly work abroad for shorter periods, it is not known how many of them have returned or are backworking in a foreign country for a second or third time, Aab said. Sweden, Britain and Ireland were the only EU members to immediately apply EU rule of free movement of labour to workers from the eastern and central European states that joined the EU on May 1, 2004.
By now several other old EU members have spoken of scrapping or reviewing the restrictions. Spain and Portugal have said that they are not going to extend the validity of the restrictions while Austria, Germany and France, whichearlier spoke of maximumrestrictions, have said they will undertake a review on a yearly basis.
Creators of Skype Invest into Semiconductors
Mar 27 - Investors connected with the internet telephone company Skype will invest 25 million Kroons (EUR 1.59 mln) into the Tartu, Estonia, based semiconductor maker Clifton.
The investment company Ambient Sound Investments (ASI) will invest 25 million Kroons into the Tartu-based high-tech company, which is planning to launch mass production of high temperature resistant cheap semiconductor switches for the electronics industry.
Clifton's technology will increase reliability of electronic equipment and reduce its weight, as instead of the ordinary silica it will use the technologically fastidious but more heat-resistant and higherquality gallium arsenide, ASI reported.
Estonia's Goods Export up 32 pct Last Year
Mar 27 - It appears from Bank of Estonia's quarterly commentthat growth in export rose to 32 percent last year.
Estonian export is growing faster than the import of our main trade partners, which signifies Estonian companies' improving outlooks on target markets.
As a result of increased incomes the earnings used in domestic households increased considerably faster than private consumption. Despite that growth in domestic demand was too fast and the current account deficit contracted slowly, the central bank said.
Flights to Three New Destinations to be Offered from Estonian Capital
Mar 24 - Following the summerschedule's stepping into force, there will be new departure available from the Tallinn airport soon along with changes on some existing routes.
"From May 4, Norway's low-cost carrier Norwegian will start flights on the Tallinn-Oslo route.
There will be three weekly flights with a 148-seat Boeing B737-300," the state-owned airport company's said.
From May 14, Estonian Air will start flying to Barcelona four times a week. Flights by Estonian Air to Simferopol on the Crimean peninsula in Ukraine will start on April while flights to Dubrovnik, Croatia, will start on April 19. The summer schedule also brings resumed flights to Paris. In addition, the number of departures will increase on many existing routes. There will be regular flights to 23 European cities and to two Estonian islands from Tallinn during the summer period. Thirteen companies will be operating the flights.
MISC
Tallinn Chosen European Capital of Culture for 2011
Mar 28 - Estonia has named its capital Tallinn to be European Capital of Culture in 2011.
Estonia's Engelbrecht Became President of European Academic Federation
Mar 28 - Estonian Academy of Sciences Vice President Juri Engelbrecht has been inaugurated as president of All European Academies (ALLEA,
the European Federation of National Academies of Sciences and Humanities).
Engelbrecht's appointment became effective during the session of the ALLEA General Assembly in Krakow, Poland on March 22-24.
Founded in 1994, ALLEA unites 53 academies of sciences and humanities from 40 European countries. The ALLEA secretariat is situated with the Dutch Royal Academy of Sciences and Humanities and its work is sponsored by the Dutch government.
Engelbrecht served as president of the Estonian Academy of Sciences from 1994-2004.
Nordic Drama Days will Take Place in Tallinn
Nordic Drama Days will Take Place in Tallinn, March 31 – April 1 in Tallinn City Theatre.
Similar to the first Drama Days which took place last year, Estonian theatre-lovers will have an opportunity to enjoy recent modern drama written by authors from Nordic countries in the form of stage-reading. Some of these works have only recently been staged in the Nordic Countries. Plays are introduced to the audience by the actors from several theatres in Tallinn.
The Drama Days are brought to life for the second time in a row thanks to the contributions of the Nordic Council of Ministers' Office in Estonia, The Embassy of Sweden in Tallinn, The Royal Norwegian Embassy in Tallinn, The Finnish Institute in Estonia, The Nordic Centre for The Performing Art – NordScen, and The Cultural Heritage Department of The Tallinn City Government.
EXPRESSION OF GRATITUDE BY THE FAMILY OF LENNART MERI
Mar 29 - At 18.00 on 29 March two years ago, exactly at the moment when Estonia officially became a member of NATO, Lennart Meri hoisted the alliance's flag in his home yard. Estonia will never be alone again, Lennart Meri said on that day, his birthday, in the midst of Estonia's destiny and the beauty of history.
Now we are thanking all those thousands of people whose compassion has made us confident that we were never alone when saying goodbye to our husband, father, grandfather and brother. We thank the conscientious and industrious Estonian state officials who helped organise the President's funeral in a way that is worthy of a Nordic European country.
We thank the Estonian Police and Defence Forces who helped the mourners and escorted the late President with dignified solemnity and discrete meekness.
We thank the residents of Viimsi and Nõmme who paid their last respects to the traveller so devoted to his homes.
We thank the representatives of all confessions of faith who sent Lennart Meri on his final journey in the Kaarli Church.
We are moved and grateful to all those who shared our mourning and who have already extended their support to making Lennart Meri's ideas last through the objectives of his foundation. We thank, from the bottom of our hearts, all of our friends here and throughout the world who joined us in action and in their thoughts upon Lennart Meri's parting. Lennart Meri wanted to see a wakeful and smiling Estonia that is never alone again. It's in our hands now!
MERI MEMORIAL FUND SET UP AT FINNISH TUGLAS SOCIETY
Mar 24 - A memorial fund for former Estonian President Lennart Meri has been established at the Finnish Tuglas Society, a representative of the
society said.
The purpose of the fund is to develop Finnish-Estonian cultural relations and more broadly Finno-Ugric cultural cooperation
by giving out grants for promoting these goals. The list of donors will be forwarded to the Meri family. The society named after the
prominent Estonian author Friedebert Tuglas was founded in 1982 as a civil association to promote awareness of the
Estonian culture and life on the northern shore of the Gulf of Finland and bilateral cultural cooperation. Meri's activity was connected with the Tuglas Society in several ways. During the restoration of Estonia's independence in August 1991 he as foreign minister worked for a
week in the society's rooms in Helsingi.
EULOGIES FOR PRESIDENT MERI IN KADRIORG, MARCH 26, 2006
March 26 – Eulogies for President Lennart Meri by President of the Republic of Estonia Arnold Rüütel, President of the Republic of Finland Tarja
Halonen, and Former Prime Minister of Sweden Carl Bildt in Kadriorg, 26 March 2006 have been published on the following address:
www.riik.ee/lennartmeri
EESTI RINGVAADE (ISSN 1023-1951)
is compiled from local news services, including BNS, and is issued by the Press and Information Department
Ministry of Foreign Affairs
ISLANDI VÄLJAK 1, TALLINN ESTONIA 15049
TEL +372 631 7600 FAX +372 631 7617
Eesti Ringvaade is also available through the Internet at http://www.vm.ee To subscribe please contact: vmpress@vm.ee